Civil Society Organizations (CSOs) in Ghana held a peaceful demonstration on the streets of Accra on Tuesday, 30th May 2023 dubbed '#MyPeriodMatters; #HaltPeriodTaxNow' in commemoration of Menstrual Hygiene Day 2023.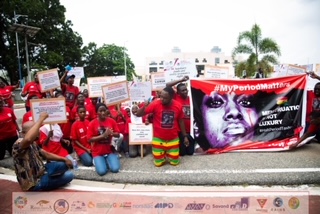 The demonstration, powered by the Ghana CSOs platform on the SDGs, saw over 100 CSOs, including the Alliance for Reproductive Health Rights, in action to present a joint petition to the Speaker of the Parliament of Ghana, and the Ministries of Finance, Health, and Gender, Children, and Social Protection. The goal of the demonstration and submission of the petition was for the government to scrap taxes placed on sanitary products and make them accessible for all women and girls.
The group converged at the Efua Sutherland Children's Park in Accra to start the protest and walked to the Parliament House, holding placards with messages targeted at decision and policymakers in the country. Some of the messages on the placards read:
"Menstruation is not a luxury, why then the import tax?"

"Let's reduce the prices of pads to help young people in deprived communities afford them and have a safe period"

"The government of Ghana through the Ministry of Finance must do well to scrap the 20% import tax on menstrual products"

"Improve access to sanitary products and rights to manage menstruation without shame or stigma"

         
A student, Latifa Abdul, read the petition on behalf of the group and presented the petition to the government's representative, the Head of Communications at the Ministry of Health, Mr. Isaac Offebah.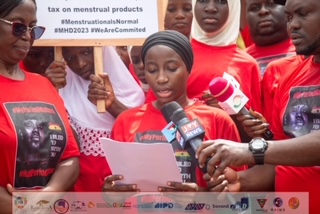 Key issues raised in the petition were that sanitary products are classified as "Miscellaneous Manufactured Articles" and attracted a 20% import tax, 15% VAT, and many other taxes. Hence, the call on the government to remove all taxes on sanitary products and reclassify them as "Essential Medical Necessity" thereby having zero tax on them.
Mr. Offebah received the petition on behalf of the ministries and assured that discussions on the petition will be had and a resolution on the removal of taxes will be communicated to the parties.